By: Tim Hucke, Sales Executive at ProShip, Inc., and
Jason Greenberg, Sr. Channel Partner Manager at SPS Commerce
Did you know that the cost of ownership for an outsourced EDI solution is up to 30% less than antiquated in-house software?
It's time to take the burden off your shoulders so you can dedicate resources and energy to building your business and improving trading partner communication. Gone are the days where you need to worry about outdated and overly complex hard-coded business rules. The focus has now shifted to improving communication and eliminating costly hardware, software and licensing fees.
Through integrations with ERPs, tighten your omnichannel retail supply chain and enable your business to advance at the speed of the today's connected consumers. By utilizing a state of the art cloud-based solution and collaborative community network, you can empower your business to keep up with the accelerated pace of competitors while meeting customer expectations.
Outsourcing your EDI operation simplifies and expedites several processes to support retail and supply chain efforts. By doing this, your business can:
Ship products to trading partners as well as directly to individual consumers.
Integrate existing solutions seamlessly to automate, simplify and reduce costs.
Send and receive EDI documents directly into your ERP or other business systems.
Grow your distribution fast by joining the largest trading partner network in the retail industry.
Seamless. Secure. Successful EDI Outsourcing.
Get the most from your supply chain and trading partner network by integrating the ProShip EDI Adapter with SPS Commerce.
ProShip's capabilities and the SPS Commerce's network are a match made in the cloud. Suppliers can connect with additional retailers and channels to sell more inventory, and retailers can easily find and onboard new vendors with the coveted products consumers want. ProShip can help to ensure all the products get delivered to where they need to be and when they have to be there.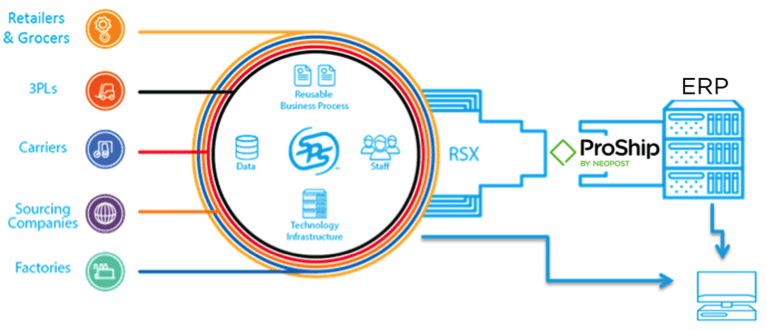 Why ProShip and SPS Commerce?
ProShip, Inc. is a global provider of powerful, industry-leading, multi-carrier shipping solutions that enable goods to be delivered faster, more efficiently, and more cost-effectively than ever. From packing, to shipping, to delivery, ProShip offers responsive solutions that help customers compete in the modern retail landscape and beyond, including enterprise-wide, multi-carrier shipping and manifesting software, automated packing solutions, and intelligent parcel lockers.
ProShip has a reputation for quality that is backed by decades of IT and supply chain expertise. That expertise is instrumental to ProShip's ability to seamlessly integrate with many host systems, and capacity to handle all small parcel, LTL and TL shipments with ease. In fact, ProShip automated shipping software assures 34 of the top 500 e-commerce companies exceed their toughest shipping goals, empowering an average of more than 745,000 online orders a day.
One of the systems that ProShip integrates with simply and seamlessly is SPS Commerce. ProShip connects with the SPS network to allow for a streamlined process from when the order is placed to when the order is fulfilled. ProShip can perform the last mile integration with SPS to get those orders into your host system and create the specific EDI documents needed for that transaction to be fulfilled appropriately.
SPS is a leader in the retail and supply chain management industry, helping businesses easily exchange documents electronically, quickly add new trading partners, eliminate manual data entry and reduce costly errors. More than 65,000 customers in over 60 countries trust SPS Commerce to gain efficiencies, maximize potential and perfect their trading partner relationships.
Want to learn more about how ProShip and SPS Commerce work together to help your business reach the next level in speed and efficiency? Contact a EDI integration specialist today.
[ ProShip's Universal EDI Adapter ]
Tim Hucke, Sales Executive at ProShip, Inc.
Tim Hucke has been a Sales Executive at ProShip, Inc., for more than 3 years. He started as an intern while finishing his degree at UW-Madison. Tim reconnected with ProShip after graduation as an Account Manager before joining the sales team where he has become an expert in enterprise shipping solutions and EDI integrations.
Jason Greenberg, Sr. Channel Partner Manager at SPS Commerce
In over 7 years of experience at SPS Commerce, Jason has worked with many facets of the retail ecosystem. He has helped suppliers and retailers streamline their supply chains, as well as focused on Point of Sale data analysis. As a Channel Partner Manager, Jason is currently expanding the SPS Commerce Business Partner Network for retail systems and solutions.